B-04  健康檢查Health Check
🖱️申請步驟Steps for Health Check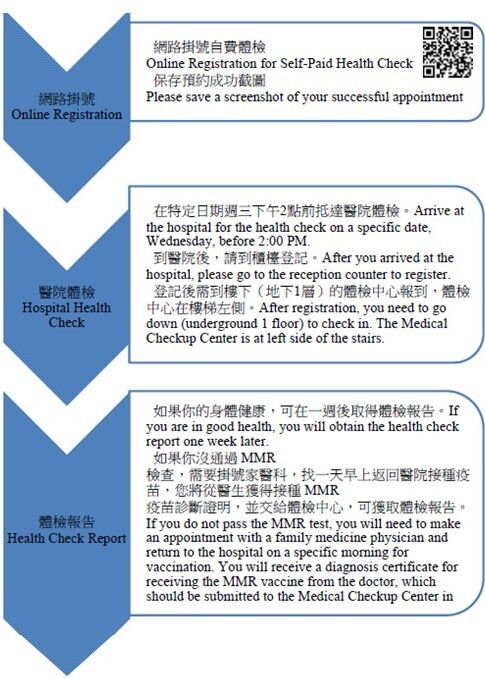 📄必備文件Required Documents
1護照正本和影本 Original and photocopy of passport
2統一證號基本資料表正本和影本
Original and photocopy of Basic information of UI number
4兩張2吋大頭照 Two 2-inch photos
5預約掛號頁面截圖Screenshot of the Appointment Registration Page
6麻疹及德國麻疹之抗體陽性檢查報告證或預防接種證明
Proof of Positive Measles and Rubella Antibody or Measles and Rubella Vaccination Certificates. (MMR proof)
MMR證明包含:姓名、接種日期、疫苗名稱。
MMR proof must include: your name, the date you get the vaccination and the type/name of vaccination.
💰體檢費用Health Check Fee:
如果你沒有 MMR 證明,體檢費用NT$2,000
If you don't have MMR proof, it costs NT$2,000
如果你有 MMR 證明,體檢費用NT$1,200
If you have MMR proof, It costs NT$1,200
🏢地點Location

🤲你會得到What You Will Receive
一份合格的體檢報告A qualified health check report
🕞︎耗時Processing Time
一週後醫院會掛號寄出或你可以親自前往醫院領取
One week later, the hospital will send the medical report by mail, or you can visit the hospital in person to collect it.

以上資訊僅供參考,最新資訊請洽詢大里仁愛醫院。
The above information is for reference only. For the latest updates, please inquire at Dali JenAi Hospital.